Get to Know New Principal Jessica Haddox
October 12, 2016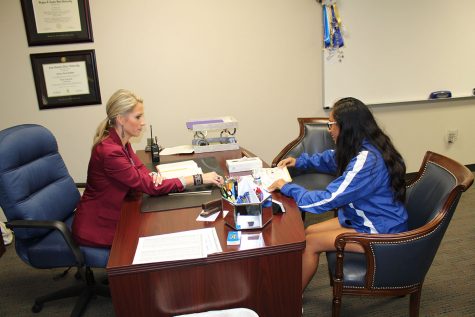 When the new school year started, Klein had many changes as always but this year especially, as Klein welcomed a new superintendent Dr. Bret Champion and Klein's very own new principal, Ms. Jessica Haddox!
TheBearchat: How do you feel going into your first year as principal of Klein High School?
Jessica Haddox: "[it's] so exciting, it just feels right… because I've been here before I know all of the AP's and I know most of the teachers and because I was at Kleb I know some of the kids that have come over and I also know some of the kids from when I was here before"
TheBearchat: Where did you go to school throughout your career?
J.H.: "I started at Stephen F. Austin State in 2000 majored in Biology but took educational electives graduated in 2004, as soon I graduated I went straight into student teaching at Cy-Creek High [where she graduated high school] for 5 ½ years, as I taught I was also going to Sam Houston University at night taking classes to receive a principal certification and graduated from there in August 2010. Summer 2010, a little before I graduated I sent in an application for Klein ISD. I was then hired by Larry Whitehead as an AP. After that, I was then promoted to Associate Principal in March of 2013 and worked as that for a little under a year. I got promoted to head Principal at Kleb and stayed there for 2 ½ years. Finally, I was hired as Principal of Klein High School on August 9, 2016"
The Bearchat: How do you feel replacing Larry Whitehead?
J.H.: It's awesome, I mean he was such a great mentor for me and we talk almost every day because I'll have questions or get his feedback on stuff, he's now my supervisor role, so he's my boss now, [and] it's kind of like the old days when he was a principal and I was an assistant principal [so] it's nice to continue that working for him"
The Bearchat: What was your biggest obstacle transitioning back into Klein?
J.H.: "Filling Larry Whitehead's shoes [was my biggest obstacle], but the way I've approached it is, I'm not Larry and he's such an amazing person and we're so much better just by knowing him so just simulating what he did but still being my own leader."
The Bearchat: What are your goals for the year?
J.H.: "My entry plan which is my first 100 days as principal was just published, [I will try to] figure out what we need to focus on as a group to even better this school because it's already great but you know you always want to continuously improve"
The Bearchat: What is your favorite school activity is so far?
J.H.: So far my favorite has to be football games, I love them!
The Bearchat: What is your favorite food?
J.H.:Raw sushi, and I also love Chuy's nachos, but it really depends on what mood I'm in.
The Bearchat: What is your favorite clothing store?
J.H.: "When I was in high school I worked at Express so I would say that is my favorite clothing store, I was the #1 denim expert so I got a first class trip to meet the president of the corporation"
The Bearchat: How would you describe yourself?
J.H.: "[I am a] nerd at heart I love science and reading books and I'm very outgoing but I'm also an introvert when it comes to being at home I like to curl up and read a book, I love the city, fashion, and being with friends."
Teachers said they are excited about getting to work with Haddox,
"We are very excited to have her because of the positive energy she brings to the school. We miss Mr. Whitehead, but we're happy to have Ms. Haddox," said English teacher, Janet Spradling.
Many teachers also love the communication with  Haddox.
"I love how involved she's being with teachers and students, but especially teachers like she's sending us emails and actually writes us a newsletter so I like that she's keeping us updated and keeping us involved," Spradling said.
Seniors are also sad that Whitehead won't be the one handing them their diploma at their graduation.
"I'm really sad and I really wish it was him because I love Larry, he's the best." Many students also appreciate her hard work and are looking forward to the year with her, "I feel like she's doing a really good job and that she's taking on the role of our new head principal really well [especially] having to adjust to a whole different setting, we are very happy she's here," said senior, Deshaun Hubbard.