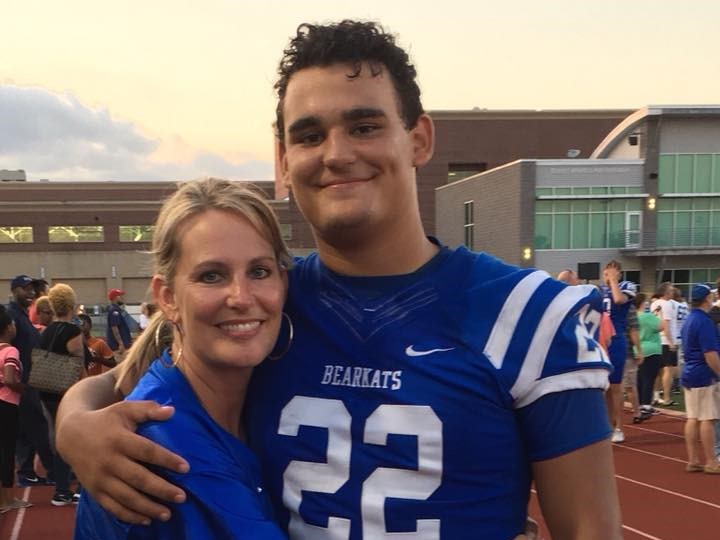 End of a Long Journey
Assistant Principal Renee Miller reflects on son's experience in football.
September 26, 2018
The first football game on Thursday, Aug. 30, against Cy-Creek was full of excitement. There was a feeling of anticipation in the air, as the kickoff meant the beginning of the 2018 football season. However, for Assistant Principal Renee Miller, the kickoff signified more than just the beginning of another season. For Miller, the kickoff marked the beginning of her son, Jackson Miller's, final season playing as a Bearkat.
Jackson has played football since he was in the first grade and Miller has been able to see him grow as a person throughout his career in sports.
"Jackson was a little more timid when he was little," Miller said. "It wasn't really until he learned how to hit somebody, and then he loved it. He's just more confident and coming to his own the older he gets."
However, confidence is not the only thing that football has changed for Jackson. Through football Miller has seen Jackson form strong bonds with his teammates around him, but Jackson is not the only one who connects with the players. Miller has seen herself forming good relationships with several of the players.
"I'm a football fan in general, not just a Jackson fan" Miller said. "Being an administrator, I have a good relationship with a lot of the kids. So, cheering on each of them and watching each of them being successful in their own way is a really good feeling, and I'm proud of them just like I'm proud of Jackson."
While Miller is proud of all the kids, Jackson of course holds a special place in her heart. She's seen him grow up from being a small child to being the not so small Jackson we know today. Football has been with Jackson throughout that whole experience and as his senior year begins the prospect of playing at the next level begins to seem more real.
The prospect of college ball doesn't really matter to Miller though, as long as she sees her son doing what he wants, she said.
"According to some of his coaches, he has the potential to play college ball," Miller said. "If that's want he wants to do, then that's great, and if he doesn't, then that's great too, as long as he's happy."
Regardless of whether Jackson plays football in college, his career as a high school athlete is coming to an end, but his mom is going to be there for him no matter what. She's been on the journey with him since before college was even a thought in the back of anyone's head and she's determined to be there for his final year as a Bearkat.
"It's almost emotional, because you know that high school is coming to an end and your baby is moving out," Miller said, reflecting on the start of the season. "But at the same time, I'm so excited for him, and for this season… I hope they win every game."