A Short Interview with Divya Nagarajan
A Short Interview with Divya Nagarajan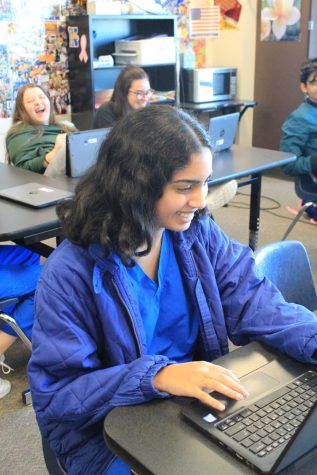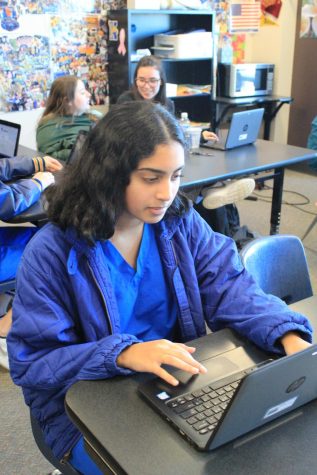 Divya Nagarajan highlights the hardworking qualities that define the most successful students. At once, humble, hardworking, and intelligent, Divya has an eye to the future and the natural skills that make her stand out and got her nominated by Ms. Freeman.
"Divya is one of the most humble students I have worked with, and I consider her humility an admirable quality," Ms. Freeman said.
A short talk with Divya reveals a lot about how she works, and how her work ethic has impacted the person she's become.
Q: Academic Decathalon, HOSA, National Merit, attending UT, becoming a doctor. That's a lot to handle how do you balance it all?
A: I've developed my study skills since middle school. Time management is the big thing that's allowed me to be relatively successful. My plan for the future came from my sophomore year when I realized I really like science, especially Chemistry so I'm majoring in Biochemistry. Medical school is the tentative plan but I'm not 100% sure about it. I just try to deal with all with really good time management.
Q: What gives you work ethic to do all that?
A: I think it comes from a really young age. My parents have always taught me to work really hard, especially when it comes to my education. That's the most important thing to them so ever since I was a kid I've considered school really important to me. I guess that translated into working really hard once I got into high school and I just think of education as the most important thing to me know to help me in my future.
Q: Was that the biggest thing as a kid for you that's impacted what you're doing now?
A: Yes, for sure.
Q: What impacted you to become a doctor? Is that for sure what you want to do?
A: Well that's my plan for now, but I'm not 100% sure it's what I want to do. I really had no idea what I wanted to do coming into high school, but I took AP Chem as a sophomore and I really loved it. I struggled with it sometimes, but I found it fascinating, and once I figured that out I realized to go into something STEM (Science, technology, engineering, and mathematics) related. I've also been a member of HOSA since freshman year and meeting with all the guest speakers who are doctors and other things was really cool. My combination of my love for science and HOSA made me think it was a good field for me.
Q: Where did your love of science start? What does it come from?
A: Honestly, I don't really know. AP Chem was the first class I really felt like you don't have to be amazing at something to have passion for it. I've always been exceptionally good at English. I just think it's the easiest thing ever, but it's not like I have a passion for it. I don't really care for it that much, so that class (AP Chem) made me feel like even though I struggled with it sometimes, I still really enjoyed it, and that's how I realized it was something I wanted to pursue.
Q: Why do you want to go to UT? Why this school?
A: I never really wanted to go out of state. Most of high school I never really thought about it, so I thought, it's one of the best schools around here in state. They have this program I really want to get into called Health Science Scholars. It's really small so you get to know everyone and get to know the faculty. It's a really good program for people trying to go into medicine, but it's also science and research based. If I don't get into that program, I've also applied to some other schools.
Q: Is staying in state important to you?
A: I would like to be close to my family. I've seen it with my sister because she went to UT. It's not super close, but she can come home whenever she wants. Being close to my family is important to me.
Q: With all these responsibilities and everything you're juggling, what are you most excited for going into the future?
A: One of the things I'm excited for in college and about UT is it's so big so you have a lot of opportunities and people you can meet. Basically, there's something for everyone. There's thousands of organizations so I really like that. I just think college is a great way for me to explore my options because I have my tentative plan, but there are other things I've thought about like going into pharmacy or pharmacology instead of actual medical school. I'm really excited to go into college and explore my options.