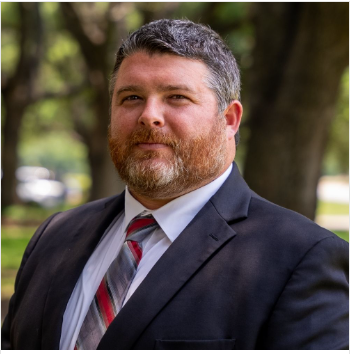 After being a member of the Klein ISD family for five years, Robert Gilbert started off the new school year with a promotion.
Gilbert is the new principal of Strack Intermediate, where he strives to use the lessons he learned at Klein High to improve what he believes is already great about Strack. In addition to Gilbert's departure, assistant principal Gregory Coleman has moved to Wunderlich.
He soared from teaching at Klein Forest for three years to working as an assistant principal at Klein High for two, and now, he's on his way to the home of the Cougars.
"Klein High is a one-of-a-kind place," Gilbert said. "There is so much support, but at the same time there is an established expectation of excellence. Klein High molded me into the person I am today because each day, no matter what the task was, there was always an expectation of excellence from students, staff, and the community."
To bring this expectation of excellence to Strack, Gilbert said he plans to engage the community through family engagement activities, positive office referrals and an expansion of clubs and organizations so that "every student has an avenue to be involved at Strack."
"My vision for Strack in the future is to continue building upon all of the great things that are happening on a daily basis," Gilbert said. "Strack is a great school with a very supportive staff, community and students."
In his Klein High days, Gilbert approved many club activities and helped hundreds of students achieve their extracurricular ambitions. In April of 2023, Gilbert was even named Assistant Principal of the Year. When students found out that he would be leaving, they were downhearted.
"He always knew how to make your class smile," sophomore Honor Peterson said.
According to senior Faith Barcial, Gilbert cared about everyone at Klein High.
"Mr. Gilbert has positively impacted Klein High through his constant concern for every student's needs, whether it is their safety, club concerns or complaints," Barcial said. "He is always there and ready to help."
Having attended Strack in middle school, Barcial has high hopes for what Gilbert will accomplish.
"From what I remember, Strack was very outdated, so I hope Mr. Gilbert makes it look more appealing to everyone," Barcial said. "I believe working at and attending a school that looks nice and welcoming allows for a greater experience for the student and staff population."
Gilbert plans on connecting with the students of Strack as much as he did the students of Klein High by having a visible presence in the school, creating a leadership academy with students to keep up to date with what is going on in their lives and setting aside time to have conversations with students. But no matter where he goes, he will always remember the most important lesson he learned at Klein High: the ability to change lives.
"There are always differences at every campus you go to," Gilbert said. "One thing always remains the same, though. No matter which campus you are at, you have the opportunity to impact and influence the lives of every student, adult and community member around you each day."