Netflix takes binge-watching to the next level
Hang on for a minute...we're trying to find some more stories you might like.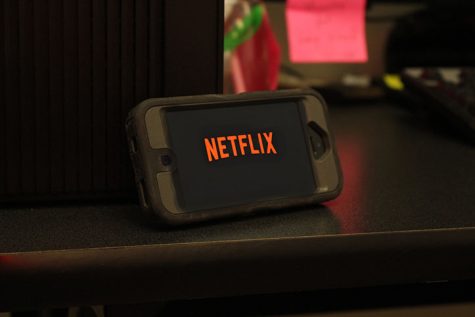 Which Netflix show is your favorite?
Stranger Things (41%, 9 Votes)
Daredevil (18%, 4 Votes)
Orange is the New Black (18%, 4 Votes)
Fuller House (14%, 3 Votes)
Narcos (5%, 1 Votes)
Luke Cage (5%, 1 Votes)
Total Voters: 20
Loading ...
According to Bearkats across the school, students binge watch TV in their down time. Netflix, being a worldwide internet phenomenon, has given the faculty and students a "golden ticket" to access films and shows at any given moment. With this in mind, Netflix has added a new update allowing users to download and watch movies and TV shows without having internet connection.
"I feel fantastic about that because now I can watch shows without having to have internet all the time," said junior, Noah Morrison.
Others had a negative perspective to the downloading feature.
"We sent my daughter to my wife's school and we had downloaded a bunch of stuff that she can watch because she doesn't have data," said Assistant Principal, Brandon Baker. "So, I don't like it that much right now because it didn't work."
Stranger Things is one of the most popular Netflix original series in the Sci-Fi genre. It has gained a lot of popularity over the last six months since its release on July 15, 2016. A boy goes missing after an alien or mysterious creature has escaped, set in 1983 Hawkins, Indiana.
"I like it because of the way they made the show," said Morrison, "It was based in a different time period and around a lot of ideas of what people believed in, like aliens and all that other stuff. It's just a really different way of putting it out there. I think the actors did very good for their age because for them to act like that and do all the things that they did and have major scripts for major roles, it was definitely very hard for them because even most actors screw up on their parts that are older so, I mean for them to do that, was great."
Orange is the New Black is a comedy/drama that was released on March 7, 2013. This show has gained a large fan base since its release three years ago. It is in a modern day setting placed in Litchfield, New York.
"I just think it's a funny show. It has good content that's funny," said sophomore, Jacob Rios. "I watched the whole season in a day or two. I'd give it a five-star rating because there's a story in each episode that is very interesting to me. I think the actresses did good, very good, yeah they played their part really good. I wouldn't see them in that situation but, it's just funny to see them."
Lately, Marvel has been something teenagers are interested in nowadays. Netflix has given the opportunity for these teenagers to watch shows similarly related to Marvel. For example, Luke Cage, released on September 30, 2016, and Daredevil, released on April 10, 2015, have been an interest to the teachers and students at Klein High. Daredevil takes place in Hell's Kitchen, New York. It is about a blind attorney who fights for justice during the day, but fights criminals by night.
"I like how it ties into the whole Marvel Universe. It expands on it," said Aquatic Science Teacher, Oswald Dugue. "I would rate this show a solid 4 because it has a couple of things that just sort of make it dumb and not worth watching but, it has a lot of things that are done well that make up for that. The characters make dumb decisions and I think that is a lot of Netflix shows that characters make dumb decisions in order to drive the story but, the stories are good enough that it overcomes that."
Luke Cage is also set in Harlem, New York and is about a passionate hero who has super strength and is indestructible. He believes he can make a change in his city.
"I like this show because I like superhero movies a lot so, when the show came out on Netflix I jumped right on board," said senior, Shai Sorkness. "He's a real mean dude you know and he brings some wellness to the black community."
Fuller house, released February 26, 2016, is a spin-off of the original sitcom Full House, released on September 22, 1987. It is about some of the original cast members that are making their own experiences in the grown up world. They played the children back then and now have children of their own, making it a "Fuller House."
"I love Fuller House because I grew up watching Full House and all the reruns as a kid, "said senior, Chloe Poe. "It's a good wholesome show and it reminds me of my childhood. When Fuller House came out I was so excited to see my favorite characters grown up and their kids and all the original characters. They brought back everyone for the spin off show, that's why I love it. It's really cheesy, but I would probably give it a 4 and a half rating. I think the actors did a great job, they played the same role from the original show when they were younger, so they still keep up the roles really good and love it. Kimmy Gibbler is my favorite actress."
Narcos is a criminal drama, it was released on August 28, 2015 and is a show about Pablo Escobar before and after his reign in Columbia, in the late 1970's. It shows both the good, bad, twists and turns of Pablo's downfall.
"I really like the characters," said Baker. "I've always been interested in the historical side of what Narcos is about. I would give it a 5-star rating because the characters are unbelievable and I think they play their parts really well. Without having a lot of footage of some of those people in real life, it's hard to know how accurate they are but, I guess from what you read about them and the things you think they represent I feel like it [the actors and actresses' roles] seemed pretty accurate to me."
Netflix was founded on August 29, 1997 in Scotts Valley, California by Marc Randolph and Reed Hastings. Now in 2017, Netflix has accumulated more than 50 million subscribers in more than 40 countries and 36 million of those subscribers from the United States. Netflix has also expanded to more than video mailing services and has adapted to modern day technology. It now gives subscribers more place to view and access Netflix. For example, gaming consoles, mobile/tablet devices, e-readers, and personal computers.
"I think Netflix has impacted a lot of people because just like everything else it puts things right at your fingertips," Baker said." We don't have any downtime and if you're really into a show, you binge watch. Binge watching wasn't a verb, it wasn't anything that existed a decade ago and probably over the Christmas break, out of our 4200 kids, there's probably 2000 that binge watched something over the break."