Red Band Society ties new fans together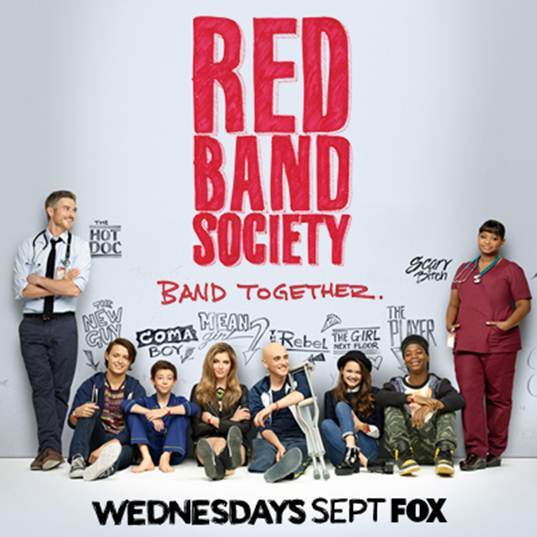 Loved "Fault in Our Stars"? Then a fan favorite is Fox's new comedy-drama television series "Red Band Society". As Charlie, the young boy in a coma inside the hospital, narrates the series through his point of view, he describes the setting of the hospital with multiple patients, each of them with different reasons for being there. All find one another in their time of need, and they all have their own issues to resolve and overcome.
The story begins with Charlie describing life itself and then introducing the first character of the series, Kara Souders (played by Zoe Levin). Kara, a bitter cheerleader with an edge to her and demands for everything, was rehearsing a cheer routine with her fellow cheerleaders until she fainted and ended up in the hospital. She found out that she has an enlarged heart and is last on the transplant recipient list due to her drug abuse, but how can the doctors tell someone who never had a heart in the first place that she needs a heart?
The story then shifts to two young best friends hanging out. One is Leo Roth (Charlie Rowe), an amputee and former patient of osteosarcoma who is undergoing rehabilitation. The other boy is Dash Hosney (Astro), another patient and close friend of Leo who has cystic fibrosis. The two boys are caught skipping class by Dena Jackson (Octavia Spencer), the strict and seemingly "scary" head nurse overseeing the pediatric facility. They are both taken to class where we are introduced to Emma Chota (Ciara Bravo), an intelligent but anorexic patient who is also the ex-girlfriend of Leo.
However, as all of this is going on, Dr. Adam McAndrew (Dave Annable), a skilled surgeon working at the hospital, meets with a young boy named Jordi Palacios (Nolan Sotillo), a patient of Ewing sarcoma. Newly admitted to the pediatric ward, he will need to have his leg amputated similar to Leo. Later, the two meet each other, where Leo feels a sense of brotherly love towards Jordi because he will have the same operation as him. Leo decides with Ruben Garcia (Griffin Dunne), a hypochondriac patient, to throw Jordi's leg a farewell party. All of the kids unite together, and Leo gives each of them red bands from his multiple treatments.
Throughout "Red Band Society", tensions will arise between Leo and Emma as they have mixed emotions for each other. Jordi, being in the middle of all the drama, creates a love-triangle between the three patients. This also tests the friendship of Leo and Dash as Leo neglects Dash for his affection for Emma and Dash gets closer to Jordi. Kara, feeling jealous for Emma due to the constant affection coming from Leo and Jordi, becomes more acidic by the day. But Leo, feeling remorse for Kara, shows her that people do care for her in different ways and that makes Kara become kinder and nicer compared to her usual hatred towards everyone.
"Red Band Society" is full of fun and excitement for what will happen next in every episode. Some moments will pull on heart strings, but then in this series, others will be hilarious, so much that it makes viewers cry. It has a little something for everyone, so don't miss out.