Students Pink Out in Support for Bearkats
The Bearkats crushed Klein Forest, but do they have tougher opponents ahead?
Pink Out vs Klein Forest
October 19, 2017 was Pink Out day for the Bearkats as they faced Klein Forest. The stands were filled with pink in support of Breast Cancer Awareness. The district showed their support by promoting a district wide Pink Out day and even adding some pink to the uniforms for last Thursday night's matchup. Student's across the district showed their support for the day.
"I wore a breast cancer awareness shirt and bandana, because it's great to support a good cause like this," junior Ben Porter said.
The game was very exciting, as long as you were a Bearkat fan. The game was never in doubt, as the Bearkats pulled out a 45-0 victory. Klein dominated in all phases. The defense was smothering, forcing many turnovers, and the offense rolled all day, physically imposing their will in the running game.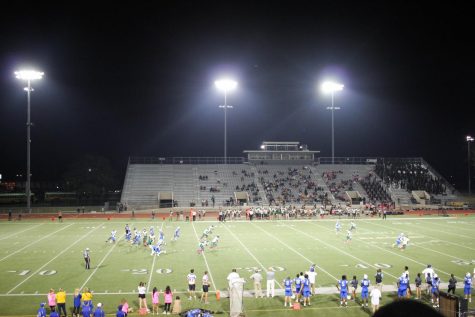 The feeling in the stands is exciting for students, who are excited to see Klein achieve so much this year.
"It's a great and very positive feeling in the stands, cheering on a team we know works very hard," Porter said.
The Bearkats sit at 5-1, and are in contention for the district. They appear to be headed on a collision course with the undefeated Klein Collins Tigers, but Klein Collins has won the last three meetings between the teams.
"Ever since my freshman year I've dreamed of putting a golden ball in our trophy case," senior Takoda Castro said.
The golden ball is given to the district winner, and the Bearkats are looking to take it home this year for the first time in over 20 years.
A win over Collins would put them in first place of the district, assuming Klein finishes 8-1. However, the 10th ranked team in the state will look to make things difficult for the Bearkats, who aspire at the state title themselves. Nov. 3rd looks to be the game to watch to decide the district champions.
"Collins may seem big and scary but if there's one thing we've proven its that when we come together as a team there isn't a team in the nation that can stop us," Castro said.