Defense Dominates in Season Opener
In Texas, high school football is a religion. For many, their gospel is back. The final week of August marks the return of football, a way of life if you're a Texan. It marks the start of Friday night lights, get-togethers, barbeques and, if you attend Klein High, the return of the Bearkats.
"It's my favorite part of the year and I love being able to go to the games and support our Bearkats," senior Brianna Marroquin said.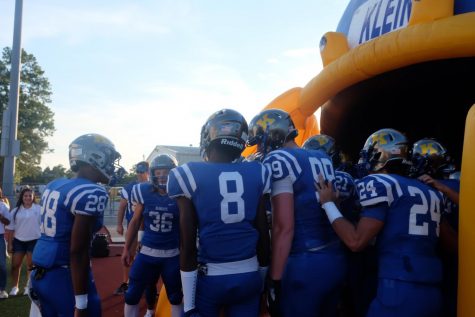 For the Bearkats, it marks the start of a long season. Against Cy-Creek, the Bearkats had their most exciting start in recent memory. In a game that started with a pick six, and a finish that came down to a field goal attempt, the tension was high from the start of the game and didn't let up until the end. The tone of the game was set from the beginning, when senior Omar Battles intercepted the ball on the first drive of the season and returned it for a touchdown.
"Coach stressed to me about the corner route the whole week of practice," Battles said. "I was watching the first play and I [saw] them come out and I watched the quarterback's eyes and I jumped the route."
That was only the first of many big plays on the night. The game would go on to feature four 40+ yard touchdowns, another pick-six, a blocked field goal, and another last-minute field goal attempt to decide the game. The excitement level showed in the stands throughout the game.
"My favorite part of the game would have to be the third quarter when the drum line came over and we got hyped with them," Marroquin said. "In the middle of our chants we scored a touchdown and we [Standleaders] ran the Klein flags during the chants. The excitement level was really high."
In the end, Cy-Creek's last-minute field goal fell short, giving Klein the victory, 28-27. Led by a combination of a strong running game and stout defense, the Bearkats were able to pull out an old-fashioned victory, although there was clearly rust being shaken off during the game.
"I started out a little slow," senior D'Anthony Simms said. "I wanted to see what the defense was going to do. As a running back, you want to get a good feel of the defense so you know how to come out."
Whether the Bearkats can maintain this formula and continue to shake off the rest remains to be seen, but for many, having this form of gospel remains good enough.
"We're gonna keep working to get as far as we can this season," Battles said.