New College and Career Center Helps Students With Life After Graduation
With senior year comes the added stress of impending college deadlines and applications. Whether it's FAFSA forms, scholarships essays, or high school transcripts, the application process comes with plenty of paperwork that can be quite confusing to students. However, students no longer need to feel alone in the process, as the school's new college and career center is here to help.
"We are new this year, and we are here to help with all kinds of things from seniors down to freshmen," college readiness counselor Gayla Zamora said. "We can help with anything that you might need help with or have questions about as far as post high school"
The center, located in room 551, seems to a popular addition with many students who are looking for a helping hand to guide them through the process of college applications.
"I went to get help with some of my applications," senior Carina Camacho said. "I needed some help with my resume and my getting my transcript. They were very helpful and intricate about things. They were really realistic with me and helping me make sure that I did certain things to help my chances of getting to the school. I would definitely recommend it to people to go get help."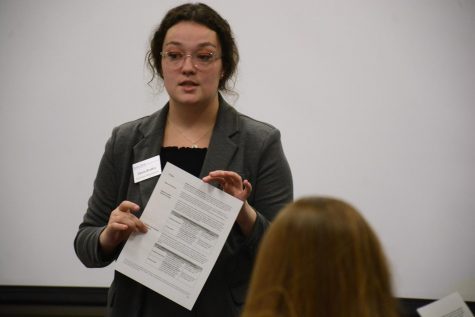 However, students do not have to be college-bound or career ready to visit the center, it's also here for the students not quite sure what their path after high school is.
"If you don't know what you want to do with your career, you can come in here and do some interest inventories," Zamora said. "We're also going to have recruiters come from military for those interested."
Whether they're bound for college, the military, or the workforce, the new center aims to assistant students in their life's journey after high school.
"We have a lot of high achieving kids here at Klein that have paths and goals and may just need assistance getting there," Zamora said. "But we also have a lot of kids that have other paths and goals and may not know how to get there or need help with their direction and steps. We're here to serve all kids with whatever they need."