A Comic-ally Great Teacher
History teacher demonstrates artistic talent
U.S. history teacher Albert Brooks has loved comics for his entire life. It began with newspapers, flipping through the pages and looking at the comics nestled behind headlines, where cartoonists were able to turn whatever their imaginations could conjure into printed reality. Since he was four or five years old, he loved the stories, the heroes, and the flashy costumes, and as he grew older, his love for comics never died.
But it wasn't until a chance encounter with a copy of X-Men while in the military that he realized just how incredible the artwork that brought his favorite superheroes to life could be. The realization that the art behind the stories mattered left a lasting impression on him, and his lifelong admiration for comics consequently flourished into a dedicated hobby: drawing and coloring superheroes.
"I think that color, or that flash of color, just really brings art to life," Brooks said. "Visually, it just makes it pop, for lack of a better word. It just kind of makes it come off the page, in a sense."
Fellow U.S. history teacher Kristina Marino, who has known Brooks ever since they both taught at Spring High School 5 years ago, believes that his drawings belong in a comic book. According to her, his skillful linework is one of his qualities that render him fit to be a comic book artist.
"He's always doodling, and when I say doodle, I mean his doodles are intense," Marino said. "They're really good."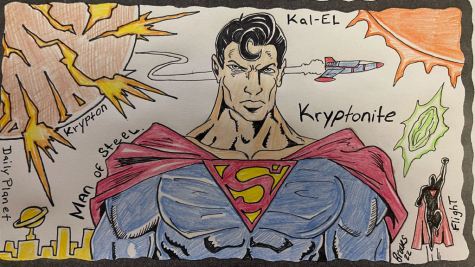 Brooks said that he's always working on improving his abilities as an artist, whether it be through exploring shading, practicing anatomy, or building up from the groundwork of flat coloring.
"I know it's kind of late in the game for me, but if I'm doing something, I want to try to take whatever it is to the next level," Brooks said. "So that'll be the natural progression of drawing and then coloring and trying to just really layer it and just really make it look outstanding."
In fact, sophomore Ava Baba and her friends were surprised to find out that an example for one of his assignments didn't have its artwork pulled from Google; instead, it was drawn by Brooks himself. According to Baba, who was impressed by his artwork, his drawings enhance her experience in the classroom.
"It makes it so much more fun to look at and so much more involving, so it really helps to deepen our understanding of the assignments," Baba said.
Although Brooks tends to keep his drawings private, he believes that in the age of social media, it's easier than ever for artists to achieve success through platforms such as Instagram regardless of the notion that success is characterized by fame and appearances on TV, and that everyone should tap into their inner artist.
"I believe that there's an artist in everybody, and that that creative side of us doesn't always display itself exactly the same in every human being," Brooks said. "I draw, your art may be painting, your art may be flower arrangement, your art may be furniture designer, home decor, those things, but just I encourage everybody to just kind of think about it and consider, 'What is my artistic ability? What can I do that brightens things up?' so to speak."