Klein High Graduate becomes Houston Mayor Hopeful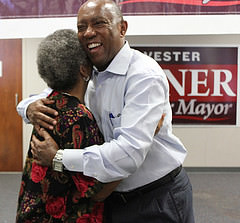 Klein High School alumni and prospective mayor, Democrat Sylvester Turner, said that he plans to make education a priority in the city of Houston during a phone interview with the Bearchat staff on Nov. 16.
"I don't like engaging in personal politics and quite frankly, people want us to be affected and they are most concerned about results than they are about parties," Turner said. "And then on a substantive basis I've always fought for education. That has been very near and dear for me."
Turner will face Bill King in the Houston mayoral race run-off election on Dec. 12
Turner graduated from Klein High School  in 1973 as valedictorian of his class. While in high school, he participated in speech and debate competitions, journalism and was elected student body president and Mr. KHS in his senior year.
"Journalism, speech, and debate, that has made me into what I am today," Turner said. "It started right there on the campus at Klein High School."
After graduating from high school, Turner went to University of Houston for their debate program. From U of H, Turner went to Harvard University to attend law school. When he came back to Houston, he joined a large law firm downtown and began his political career as a member of the Texas House of Representatives.
"The hardest part [of starting my political career] was making that transition from being the full time lawyer to being a public elected official," Turner said. "I took a little while to make the transition, to balance competing interests: family, making a little money, and then public servant. But once I was able to work my way through it things settled down."
As a member of the Texas House of Representatives, he said he has been able to accomplish much, particularly in the field of education and infrastructure. Even as a Democratic politician in a largely Republican state, he has been able to pass many laws and programs. Turner said he believes that Republicans and Democrats can and should work across political party lines to accomplish what is in the best interest for the state of Texas.
If he becomes Houston's mayor, Turner said he plans to unite Democrats and Republicans in effort to alleviate issues facing the city. Major issues that Turner is concerned with include education, infrastructure, and finances, he added.
"There's a whole lot [I'd like to accomplish]," Turner said. "It's a great city. What we sometimes miss is that it's the most diverse cities in the country. Houston is more diverse than New York. Before we can start on any of the other problems, concerns, and challenges, it's important to try to get everyone, as many people as possible, on the same page and moving in the same direction."
For Turner, this race is the final step in his political career.
"This is the last leg of the race for me," Turner said. "I'm not running for congress. I'm not running for anything statewide. This is it."
To the students of Klein High School, Turner offers advice and encouragement.
"Often times, people will say young people are leaders of tomorrow and I didn't like it when they told me that," Turner said. "Quite frankly you can lead right now. You have a voice, you need to use it. You have a talent, you need to use it. If you don't like the direction something is going, you need to participate in it. And I think a part of my task is to say to all generations, young and old, no one can run the city by him or herself. It's going to take all of us to make it happen."