Students take a breath for lung cancer awareness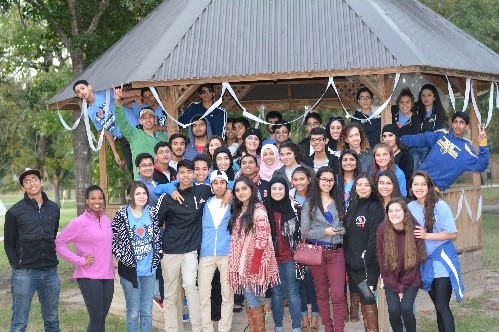 A team of junior students, Temoore Raja, Salik Ali, and Areej Siddiqui have made a mission to raise awareness for lung cancer after Raja lost his farther to the disease years ago.
Lung cancer has a small portion of funding compared to breast cancer and other cancers, because it has a low success rate. Doctors are currently conducting clinical trials to increase recovery rate, but the detection of lung cancer is usually at late stages, lowering survival rate.
"We were motivated because of my father passing away after two years of fighting stage 3b lung cancer," Raja said.
According to healthliteracy.worlded.org, the first commercial cigarettes were made in 1865 by Washington Duke. It was not until James Bonsack invented the cigarette-making machine in 1881 that cigarette smoking became widespread. Cigarette smoking causes more than 480,000 deaths each year in the United States, accounting for 1 in 5 deaths, smoking causes more deaths than HIV, illegal drug use, alcohol abuse, motor vehicle accidents, and firearm related incidents combined. This is the cause of multiple deaths of family and friends in America alone.
E-cigarettes contain carcinogens (cancer causing products), one that is the main ingredient is formaldehyde. Formaldehyde is used in many home products and is used in the biological human process,
"This year our team hosted a "Shine Out For Lung Cancer" picnic at Meyer Park," said Raja. "The purpose of this event was to honor those that passed away from lung cancer and educate our HOSA chapter on the harmful effects of E-cigarettes and the dangerous ingredients in them."
This team of students have come in contact with State Representative Patricia Harless and Congressmen Ted Poe for more assistance with getting this a known major matter.
"We reached out to our State Representative Patricia Harless, and we were able to set up a meeting with her to gain her support for our project. We also discussed the Lung Cancer Caucus with her and her assistance," said Raja. "We were able to contact our Congressman Ted Poe. He agreed to join the Lung Cancer Caucus, which is a petition raising awareness for Lung Cancer to help gain funds for research and patient support programs. The reason for meeting him was gaining his vote to increase the federal tax on tobacco products. This would help us prevent younger generations from smoking and using tobacco products."
They have also thrown parties to raise funds for the research for lung cancer.
"Our team hosted a Glow Out Lung Cancer party at Klein High School. The party took place in the HOSA sponsor's room," Raja said "Students had bought white wristbands that had the words "No One Fights Alone" written on them to gain admission into the party and all the proceeds raised were donated to the Lung Cancer Alliance."