Bearkats Help with Flood Relief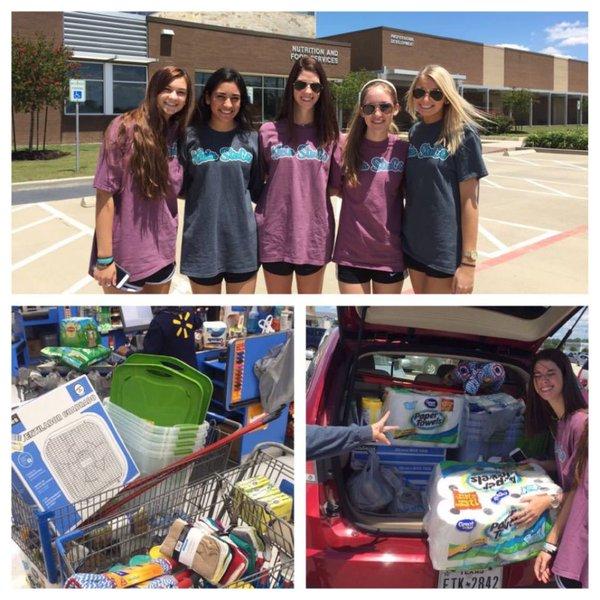 In the midst of the historic flood that decimated Houston homes last week and displaced hundreds of Houstonians, there were different groups that stepped up to bring relief to those affected. Among those groups were student organizations from the Klein High School who volunteered their "second spring break" to help elevate some of the suffering caused by the tragic flood.
"It was unexpected and unpreventable," StuCo member, senior Ashley Akins said. "It was quite scary to watch all the water come in and watch all the houses flood. Just seeing all the water and all the destruction it caused was really disheartening and sad."
Although they had never dealt with anything as catastrophic as last week's flood, StuCo members takes part in planning charity organizations and hosting drives for different charitable organizations such as NAM. They are also responsible for a lot of the drives that happen throughout the school year. For them, it was only natural to help with the flood relief.
"I suggested [helping with the drive] to Mrs. Kroon because me and my mom had taken things down to the multipurpose center the day before," StuCo secretary, senior Delaney McFarland said. "I said that StuCo should do it. I went and got some money from Mrs. Kroon for StuCo and I got some people together who were able to go and not suck in their houses, and we went out to Walmart and bought a bunch of stuff from their list that [Klein Multi-Purpose Center] posted."
The group of StuCo students were able to collect cleaning supplies, miscellaneous toiletries, other things to help clean up, food and water and drop it off for flood relief, however, they were not the only group of students who stepped up to aid in such a time of need. Other organizations such as HOSA lent a helping hand.
"My team and I are part of the medical reserve corps so with HOSA we're able to get more help on a volunteer base," HOSA member, senior Robby Singh said. "We thought that since we're still minors we weren't able to go out and directly help the city so we decided to help the Klein community in whatever means we could. We started planning for a food drive that [was on the] Friday we were off. Students came from the Klein community and donated food and we took it to NAM."
There were other groups besides StuCo and HOSA who stepped up to help last week and all of their efforts helped the community. Even those who were not connected to any specific organization were helping neighbors move things out of their homes, rip up soggy carpet, and donate much needed supplies.
"When the flood happened all our neighbors walked outside and we talked to each other from across the street covered in water," Akin said. "It was cool how people came together as a community to help each other out."