FCCLA Makes it to Nationals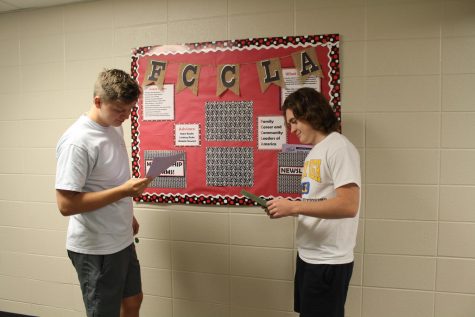 FCCLA participated in their state competition April 5 – 8. While there were 15 competitors that made it to state, only two will move on to nationals; partners and juniors, Colten Johnson and Luke Mazza.
"We were hoping [to make it to state], but we weren't expecting that much," Johnson said.
For the boys, they had more hope to make it to state than nationals because for nationals they weren't expecting to place at all.
"I thought it was kind of funny. I didn't think we were going to make top six and then I thought we were going to get 6th, but then we ended up getting 1st," Mazza said.
Unlike the Johnson and Mazza, their teacher and sponsor Katherine Rooke, along with their other sponsor, Lindsay Duke were expecting them to place.
"Colten and Luke put in a lot of hard work into this project and it turned out great," Rooke said.
Their project and presentation was about sports nutrition and a meal plan for student athletes.
"We researched what a student athlete needs for nutrition and sleep and all that," Johnson said.
Although, Rooke and Duke could not, and did not, help the competitors they were still there for support.
"Colten and Luke competed in Sports Nutrition, which they were able to compete in because they have both taken Lifetime Nutrition and Wellness. I was here to support the students and help them, but they completed all of the work on their own," Rooke said.
Many feelings, besides surprised, probably go through someone when they are presented with something that they were not expecting. The same thing went for Johnson and Mazza.
"[I felt] disbelief and shock, honestly, at first, but very excited," Johnson said.
Similar to the boys' reaction, both the sponsors and the other competitors were supportive of them when they were called for first place at State.
"We were all very excited for them and very proud," Rooke said.