Varsity Bearkats Smother Fort Bend Marshall
Klein High surprises Fort Bend Marshall in opening week upset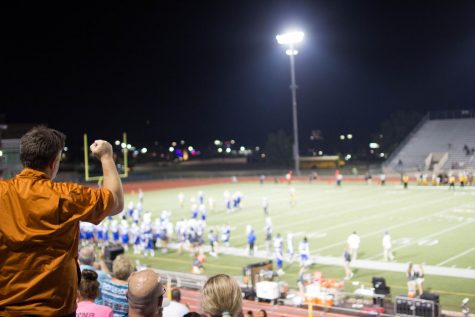 Varsity Bearkats Smother Fort Bend Marshall
In a dominant performance, the Bearkats pulled off what was considered a big upset, (on 9/15/17) beating Fort Bend Marshall, 27-7. Fort Bend Marshall, who was ranked 23rd in the state of Texas according to MaxPreps before the game, never held a lead and didn't score until the 3rd quarter. For comparison, Klein High was ranked 296th before the start of the season. Although it was considered a surprising win for the Bearkats, Coach Hallmark didn't think so.
"We expected to win. We weren't intimidated. We knew we played them tough last year and should've beat them, so we went out and played. We knew they were great, but we went out and played really hard," Coach Hallmark said.
While Coach Hallmark said there were plenty of improvements to be made, he also had some positives.
"The kicking game was outstanding. Our special teams were probably the best out of any unit. We almost had two kick returns for touchdowns, so I was very pleased," Hallmark said.
He also had high praise for specific players.
"Trey Wolfe had a great game. D'anthony Simms had 205 yards. Omaric Battles played great and had an interception, and I thought Jackson Roberts had a great game too," Hallmark said.
The biggest surprise of the night might have been the complete shutdown of Fort Bend Marshall's offense. Fort Bend Marshall's only touchdown came from the defense, as the offense had no points the whole game. Talking about how they shut down Fort Bend Marshall's offense, Hallmark said,
"Our defensive planning and preparation. Nothing new was thrown at the kids in game, and when that happens, they can play a lot faster, because they can react instead of think about what's happening. It's also a very experienced group. There are eight seniors out there, many of which are going to play college football, so that's what we expect out of them."
The return of football season also means school spirit is at its highest point. The stands were full of students, parents, teachers and everyone in-between. The stands were loud and people were painted blue and gold.
"My favorite part of the games is school spirit because it makes me feel proud of being on the side of Klein Bearkats," junior Clara Acevedo said.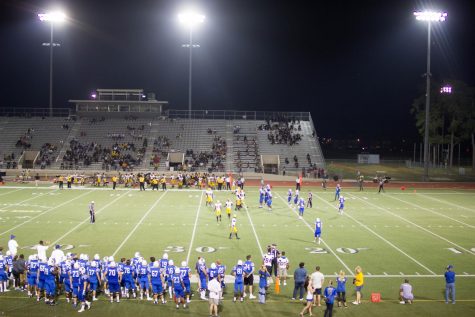 The return of the games meant different things to different people, including junior Ben Porter.
"Getting to participate in band is my favorite part of going to the football games. It's the best part of the week,"  he said.
The football team and the fans are looking forward to a great season going forward after this exciting win. Expectations are higher than they've ever been for Klein High Football.
"Our goal is to get into the playoffs and make a deep run and that's what I expect," Hallmark said.