Student Jazz Musicians form "The Pocket"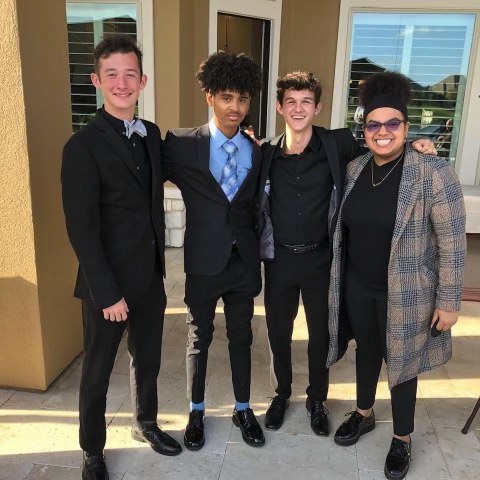 Senior Brandon Leigh always wanted to start a band, but he didn't know how to. One day, he then took a chance and sent a text to his friend. Then it all came together from there.
"What made me come up with the group is that not every day you see young musicians managing themselves," Leigh said. "I think it's crucial to American culture to spread Black American music to people of all ages and keep it alive throughout the generations to come."
Leigh was determined to organize his own musical group. He contacted his friend, Brenin Coin. Once he told him the idea, he was hooked. 
"My pianist friend Brenin and I both had the desire to play music with more people but never knew how to start doing it," Leigh said. "I took a leap of faith and texted two of my other friends and asked if they wanted to start a band. Luckily, they were."
After they gathered a few more of their friends, they were able to rehearse together for the first time. They came up with their group name on the first day. 
"During our first rehearsal, we all fit together so well we agreed we were "in the pocket"," Leigh said. "That's how we came up with our name."
One of the few people Leigh contacted was his good friend Sinclaire Wade. They met through band at Klein and have become good friends. Wade, who plays drums, goes to the University of North Texas while also providing private drum lessons. 
"I was skeptical about it at first," said Sinclare Wade.  "I was excited to be a part of something I knew would be good and successful in the long run."
The Pocket has performed at the local seafood and bar, Bleu Oyster. They've also performed at the Thistle Draftshop and local parties as well. 
"We mostly play songs that we individually like, or that other people like," Brenin Coin said. "They're all mostly standards, as in jazz songs that people know."
For more information on when "The Pocket" performs next, follow them on Instagram @thepocketofcl