New cafe hits a sweet spot
Hang on for a minute...we're trying to find some more stories you might like.
Do you like coffee? Do you like free Wi-Fi? Then the Corner Bakery Café would be a great hangout for teens.
The Corner Bakery Café is located in the center of the Vintage across the street from the power station.
Walking into the bakery it is very clean and organized. There is either smooth jazz or popular music playing, depending on the time of day. On the way to the counter there are take-out menus and catering brochures.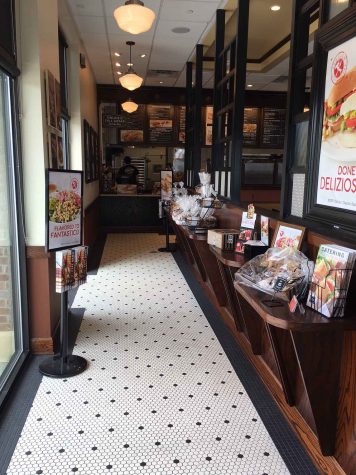 Mr. Sean Briley is the manager of this facility and is very kind and generous. At the front counter there are business cards on information to connect to their free Wi-Fi, and at every booth there is an outlet to charge a phone or laptop, which appeals to teens as well as working businessmen.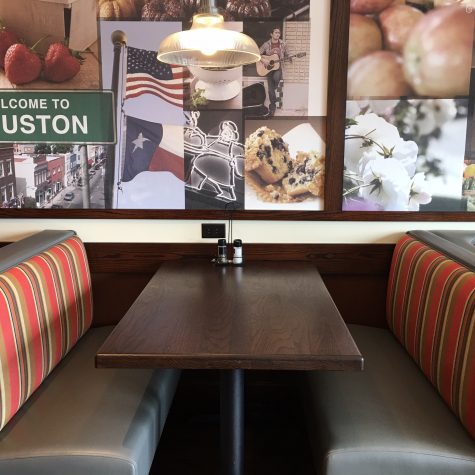 The Corner Bakery Café offers a variety of food. They have pastas, sandwiches, soups, salads, and pastries. The prices for the food weren't completely outrageous either, everything was under $10, which means you could go on a date for under $20 or even go hang out with a friend and get a great meal for cheap. The Chicken Carbonara, the Uptown Turkey Avocado, and the Mac & Three Cheese are some of the bakery's featured items.
The Chicken Carbonara consisted of chicken, Applewood smoked bacon, spring peas, linguine pasta noodles, very creamy carbonara sauce, and it is topped with toasted bread crumbs. The noodles were cooked just right and in the bottom of the bottom of the bowl the chicken was so tender that it was falling apart. The bacon was not burnt and it had the perfect crunch and texture to it. The carbonara was creamy and sweet.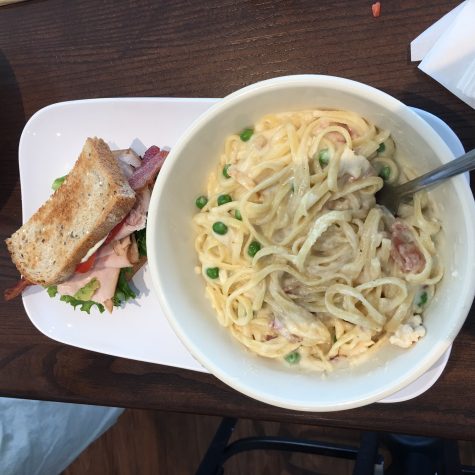 The Uptown Turkey Avocado contained smoked turkey, Applewood smoked bacon, avocado, tomatoes, lettuce, and mayonnaise. The sandwich was put together on two pieces of whole grain bread. The sandwich was not too dry and it tasted sweet.
The Mac & Three Cheese had a very creamy sauce, there was bacon in the pasta along with freshly diced tomatoes. The pasta noodles were cavatappi and there was a side of garlic bread to go with the pasta. The garlic bread was very delicious and had different herbs topping it, and it was not dry, greasy, or hard. When you, order you will be given a number to put at your table. The wait time is less than 10 minutes, and you are served with silverware instead of plastic, which is very nice.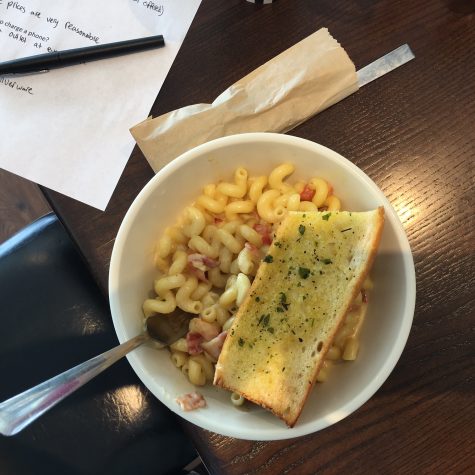 They had a variety of drink options, there is freshly made hibiscus lemonade as well as regular homemade lemonade. They also had typical soft drinks that you would find at a normal restaurant. There was a coffee bar that had a couple of different styles of brews along with just normal heated water with the option to make hot cocoa. Off to the side was a tabletop with sweeteners, creamers, and honey. If you do not finish your food, they offer plastic reusable to-go containers.
The Corner Bakery Café also offers the option of call ahead pick up. All you have to do is place your order over the phone and come to the side of the building to pay and pick up your order without having to leave your car.
This restaurant was very clean organized and well taken care of. The employees are very kind and welcoming, and when you are finished with your meal you don't have to do anything with your dishes. This facility definitely deserves a five star rating.