School Spirit Shines in Homemcoming Win
Klein High won 28-21 on homecoming night.
            The stadiums were packed full in Friday night's Homecoming Game 28-21 win over Memorial. The homecoming game is a cap to a weeklong of events leading to the homecoming dance. The stands were flooded with blue and gold in all sections, and there was a lot to cheer for as the Bearkats moved to 4-0 on the season.
There is something for everyone to enjoy at the homecoming game, as students show up for various reasons.
"I went to see us beat Memorial and see the choir sing," junior Spencer Walker said.
Others come for different reasons. Some come to be a part of the school spirit. Others for the band. Students might go to hang out with friends. Of course, fans also go because they love football.
"My favorite part of the hoco game has to be being on the field during halftime and performing after the game is over. I love the adrenaline I get just being surrounded by the band," junior Yakira Sanchez said.
Nearly every seat in the stand was filled with blue and gold, which is part of the appeal of the homecoming game.
"Seeing all of the Klein pride is amazing. It created this awesome sense of community and of course helps our team get hyped to win," Walker said.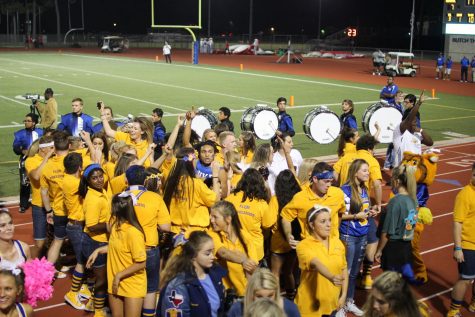 The players felt the school spirit and support behind them, which helped throughout the game, according to one of the players.
"Just knowing that we had the whole school backing us up is amazing," senior Takoda Castro said.
The student section was cheering and excited the whole game, making for a fun environment for the fans.
"My favorite part of the game was being in the student section as all the Stand Leaders and drum line got everyone to cheer," sophomore Marissa Carlson said.
The game provided plenty of moments to give the students to cheer for too. Klein never trailed all game and provided plenty of exciting plays.
" My favorite part of the game was when my boy Lance Pena scored on an amazing catch. It was truly breathtaking," Castro said.
The one-handed grab Castro talked about came near the end of the 3rd quarter which gave the Bearkats a 28-7 lead and the crowd yelling with cheers.
Memorial's offense was stagnant most of the game, and committed far too many mistakes, turning the ball over twice. Although the Mustangs attempted to stage a 4th quarter comeback down 28-7, they ultimately fell short, as the Bearkats hung on for the win, 28-21. The Bearkats move into the halfway mark of the season still undefeated, and have a contest with the rival Klein Oak Panthers coming up Thursday, Oct. 12th.
"It feels great to be 4-0 but it'll feel even better when we are 5-0," Castro said.