Water Warriors Impact Community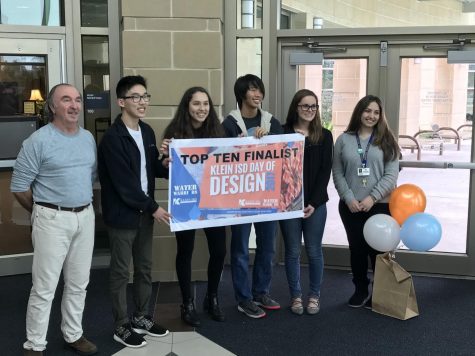 Courtesy of Patrick Sim
At the Klein Multipurpose Center on January 19,  the district held a flood relief design competition for students of all ages across the district. The Klein High Water Warrior team, sophomores Marissa Carlson, Andy Zhou, Beatriz Avila-Rimer, and Patrick Sim placed first with their virtual model of a flood barrier to protect small houses.
"I became interested because my physics teacher, Ms. Khaldi, notified our class about the opportunity to be a part of Water Warriors to benefit the homes around the community in the case of another flood," Zhou said.
Near the end of November, the team Hydrodam used an engineering software to build a prototype of a flood barrier for victims of Harvey. They targeted towards small homes that were built on lower grounds.  
"We knew people whose homes got flooded during Harvey and it pushed us, even more, to take on the challenge," Sim said.
The team tackled the problem to provide a flood solution for a tragedy that affected the community, and that could happen to so many others around the world.
"It was a great experience. We all had different ideas and we were able to combine these ideas to form a project that would help families around us," Avila-Rimer said.
On competition day, the team enjoyed seeing everyone's ideas from elementary school kids to high school students.
"At the competition, we presented in front of judges who were architects and also engineers. It was pretty fun," Zhou said.
Fostering teamwork and creative thinking among a variety of students, they gained an educational experience and the first place title.
"Water warriors helped us helped us gain creativity and opened our minds up, so we could potentially help solve other problems in the future," Sim said.