Teacher of the Year Award Goes to Algebra 2 Pre-AP Teacher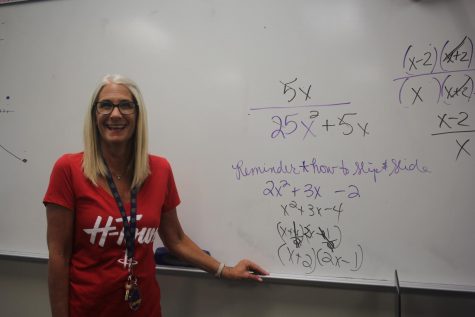 Yvette Winship, an Algebra 2 Pre-AP teacher, was recently honored with the award of Teacher of the Year.
From a young age, Winship always knew she wanted to be a teacher.
"[Even in] fifth grade, I always wanted to be a teacher," Winship said.  "Everybody made hats, ya know, 'what do you want to be when you grow up?' and I made a chalkboard."
Winship always excelled in mathematics and therefore knew that's what she wanted to teach.
"I was always better in math; it was easy for me," she said.
Winship elaborated on her way of making sure students comprehended the information.
"What motivates me is looking in kid's faces and knowing they understand and then sticking beside them until they actually do understand," Winship said.  "My favorite part of my job is the kids, students, and the relationships."
She explained her philosophy on what makes a good teacher.
"What makes someone a good teacher is being able to explain it and then if they don't understand, re-explain it in a different way and kind of getting to know the kids and how they learn," she said.  "'Because I know you better, I know how you learn, then I can re-explain it, personalized', so that they understand."
A select few teachers were nominated for this award and after they nominate them, they go back and reevaluate the nominees and then choose the winner that best fits the award, according to Winship.
Also Professional Support of the year was awarded to Ms Dallas Bertasz and AP of the year to Mr. Baker.
"I'm honored that they selected me to be the Professional Support of the year," Dallas Bertasz said." And that they see that they've been assisted the way that they feel they should be, because that's what's most important is to be able to help the teachers and staff in the way they need."
"I think that it's a great honor and accomplishment to know that the faculty here and the students here appreciate what I do," Brandon Baker said.  "I'm grateful to be on a great team with Ms. Haddox and all the APs. They've been able to teach me a lot and help me be prepared for a lot of different scenarios."
Congratulations to Paraprofessional of the year Ms. Lisa Klein, Counselor of the Year Sue Weatherton, Educational Assistant of the year Ms. Chris Milkosky, and Substitute Karen Miller.